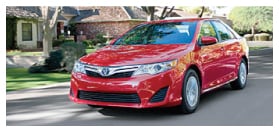 Jay Wolfe Toyota of St. Louis has a large assortment of certified used Toyotas, used Scions, and used cars of various makes and models in the St. Louis area. As a member of the Jay Wolfe Automotive Group we're able to enjoy superior buying power and large volume sales, ultimately meaning better pricing and selection for you. We also put our technology to work for us, continuously monitoring regional market pricing, allowing us to price our used cars competitively amongst St.Louis area dealers and priced to sell.


Our inventory is stocked full of an assortment of hybrids, trucks, vans and SUVs in a variety of package and trim options giving you a better chance of finding the used car you actually want on our lot. Come on out to view our wide range of certified pre-owned cars, including the ever-reliable Toyotas and Scions, to find just the features you're looking for.
And when it comes to reliability, we may have cheap used cars in regards to price, but not when it comes to quality. You can rest assured our fleet is ready to give you many more miles and years of reliable service. Every one of our vehicles is thoroughly examined by our highly trained team of service technicians before ever hitting the lot, and our rigorous inspection process ensures you a first-rate used car and us a happy customer. Customer satisfaction is paramount to us, so it's our desire to get you into a car you can trust.
Over 50 years ago Jay Wolfe started with four small car lots, and has since grown them into the retailing megadealer we have today, all by following the simple philosophy, "Everyday, in everyway, nice people." We at Jay Wolfe Toyota of St. Louis have managed to uphold this manner of thinking into our sales and customer satisfaction. We want you to be happy with your purchase so we can be the go-to dealer for your next vehicle purchase, or that of your friends and family. According to Automotive News and Ward's Dealer Business the Jay Wolfe Automotive Group is ranked amongst the top 50 largest dealer groups in the country, and we didn't get there by not taking exceptional care of our customers.
So we invite you to come on down, peruse our wide selection of certified, preowned Toyotas, used Scions and all the rest of our cars, meet with our professional and friendly sales staff and ask questions. Our well-informed team can make sure you're comfortable with your purchase and help find the vehicle just right for you. However you see it, we offer quality customer service and customer satisfaction. If you're looking for a Toyota, Scion, or any other fine used car, and you're in the St. Louis, Ballwin, Chesterfield, Florissant, O'Fallon, or St. Charles area, come on by and experience the thrill our cars have to offer.